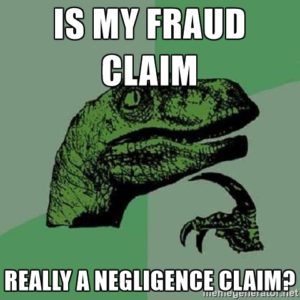 In Parsons v. Queenan, et al., No. 05-15-01375-CV (January 23, 2017), the Dallas Court of Appeals affirmed summary judgment in favor of the defendants on limitations grounds. The suit was Parsons' third in a series of malpractice suits against different attorneys that represented him since the death of his wife in a plane crash more than two decades earlier.
The first issue was whether the breach of fiduciary duty and fraud claims were subject to a 2-year statute of limitations for negligence or a 4-year statute of limitations for fraud or breach of fiduciary duty. The Dallas Court held that the 2-year limitations period applied under the anti-fracturing rule, which prevents legal malpractice plaintiffs from "opportunistically transforming a claim that sounds only in negligence into other claims" to avail themselves of longer limitations periods, less onerous proof requirements, or other tactical advantages. For the anti-fracturing rule to apply, the gravamen of the complaint must focus on the quality or adequacy of the attorney's representation. The Dallas Court concluded that the fraud and breach of fiduciary duty claims asserted by Parsons were claims for professional negligence as a matter of law.
In the second issue, the Dallas Court held that the 2-year limitations period began to run on the date of the denial of the motion for reconsideration by the Texas Supreme Court in the underlying litigation, not the date mandate was issued. Under Hughes v. Mahaney & Higgins, 821 S.W.2d 154 (Tex. 1991), "the statute of limitations on the malpractice claim against the attorney is tolled until all appeals on the underlying claim are exhausted." Id. at 157. The Dallas Court held that appeals are exhausted when a motion for rehearing with the Texas Supreme Court is denied because that is the last action of right that can be taken in the underlying case.
Parsons v. Queenan, et al., No. 05-15-01375-CV (January 23, 2017)