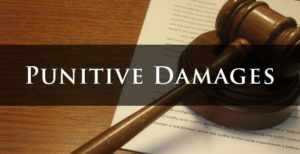 Twice in one week, the Fifth Court affirmed substantial awards of exemplary damages. I anticipate posts in the days ahead about the details of these cases, but for now, simply note these important holdings:
Bombardier Aerospace Corp. v. SPEP Aircraft Holdings LLC, No. 05-16-00086-CV (June 22, 2017) (mem. op.), a case about the condition of an expensive private jet, affirmed "a verdict in appellees' favor on both claims and awarded $2,694,160 in actual damages and $5,388,320 in exemplary damages," and
Wells Fargo Bank, N.A. v. Militello, No. 05-15-01252-CV (June 20, 2017) (mem. op.) affirmed (after a remittitur) an award of approximately $2.7 million  and roughly $1 million in actual damages.